CSR Committee Operations
To enhance the overall corporate sustainable practices, Taishin established "Taishin Financial Holdings Corporate Social Responsibility Best Practice Principles" and assembled Corporate Social Responsibility Committee (CSR Committee) to promote CSR activities . The President of Taishin FHC serves as chairman of the CSR Committee, CFO and President of the Bank serves as vice-chairmen, while representatives from various business groups/ subsidiaries/ foundations serve as executive members. The Committee is responsible for establishing CSR strategies and goals, examining annual CSR plans, and reviewing each CSR projects and their results.
The CSR Committee should meet at least twice a year and may hold a meeting at any time if necessary. In 2020, the CSR Committee convened 3 meetings with issues including plans from the six functional CSR team in 2021, material matrix, enhancement of risk culture awareness, real estate analysis for corporate banking under the Task Force on Climate-related Financial Disclosures (TCFD) framework, establishment of the "Environmental and Social Risk Management Guidelines for Individual Industries", adoption of the Equator Principles, and the ISO 45001 Occupational Safety Management System. The Committee has also reported the implementation results of CSR programs and major plans to the Board of Directors since 2018. The chairman and executive members are invited to participate in regular board meetings, during which they may communicate with the board on CSR-related issues.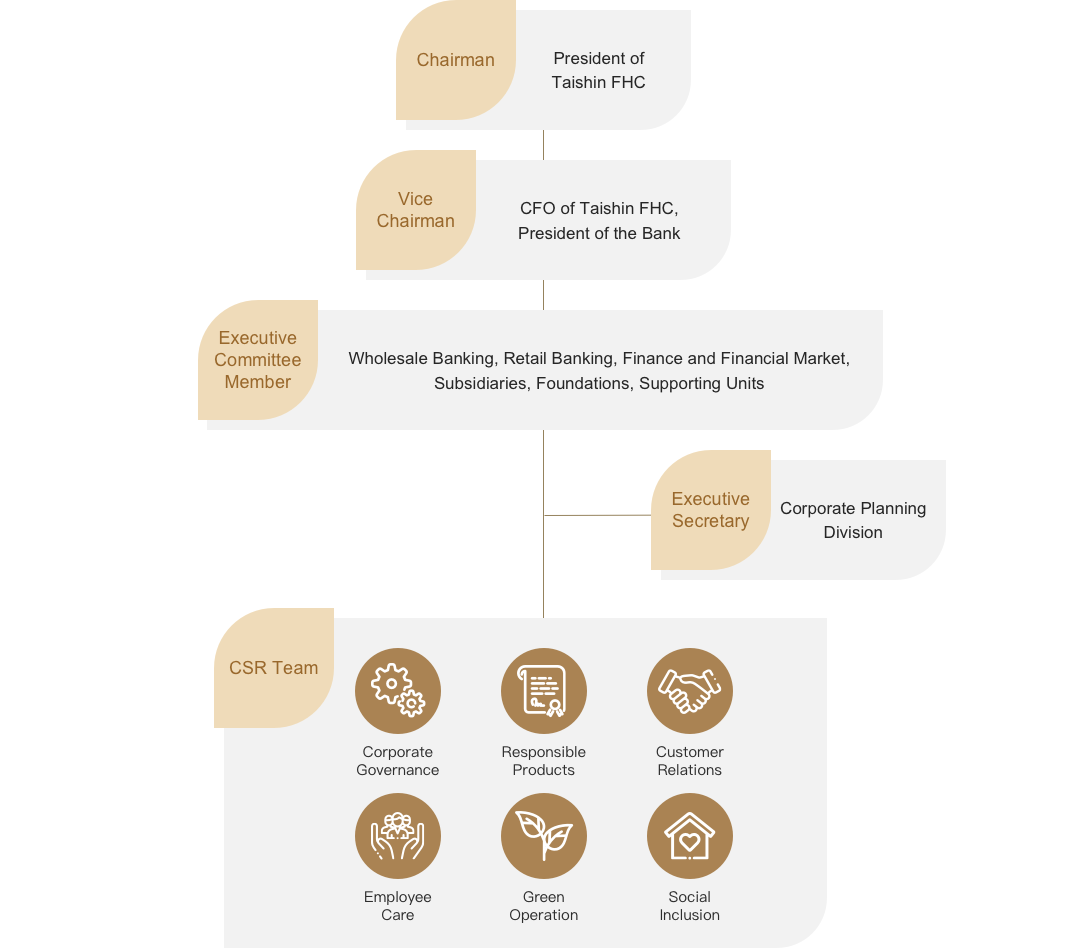 Both Dow Jones Sustainability Indices (DJSI)
World and Emerging Markets for 3 consecutive years
Received the "Leader AA for the Finance
Industry" in the MSCI ESG rating Ranked on Carbon Disclosure Project A List for climate change
Established the Environmental and Social Risk
Management Sector Guidelines
Real estate scenario analysis for wholesale
banking under the Task Force on Climate-related
Financial Disclosures (TCFD) framework

Continued to be included in the "World Index" and "Emerging Market Index" under the Dow Jones Sustainability Index (DJSI).
Recongnized as the 100 most advanced companies in Vigeo-Eiris Emerging Market Universe
Continued to won Taishin a climate change rating of B in CDP 2019
Signed the Equator Principles
Became a supporter of TCFD
Adopt ISO45001 - Occupational Health and Safety Management Systems
Held the first supplier conference

Inclusion in Both Dow Jones Sustainability Indices (DJSI) World and DJSI Emerging Markets in 2018
Added one vice-chairman and one executive member
Established " Green Finance Principles"
Adopt TCFD framework
Adopt ISO14001 - Environmental Management System
Expanded GHG Emissions Survey to the entire bank branches
Won Taishin a climate change rating of B in CDP 2018

Commenced operation of CSR teams
Established the Risk Management Committee under the board of directors
Obtained ISO 14064-1:2006 verification
Solar power equipment at Neihu Buiding operated officially
Purchased renewable energy certification
Included in the first FTSE4Good TIP Taiwan ESG Index

Identified Taishin's sustainability strategies and goals
Revised the risk management policy to include management of
sustainability risks
Enforced the signing of supplier commitments
Established Green Purchasing Principles
Purchased green electricity
Associated Richart with CSR
Signed the "Stewardship Principles for Institutional Investors"

Added independent directors and assembled Audit Committee
Supplier self-assessment questionnaire
Obtained ISO 50001 certification
Support to CDP

Established the Corporate Social Responsibility Committee (CSR
Committee)
Established the Corporate Social Responsibility Best Practice Principles
Abided by the Equator Principles-take CSR into credit assessment